Are you wondering what ASEA Redox signaling molecules are about and curious to know more? Please visit ASEA Redox Signaling Molecules for more information. In this article, we will focus on ASEA health benefits testimonials.
There are many stories and testimonials. I shall break them into categories and choose small samples for each. The categories are personal, health professional, athlete, and founder stories. If you would like to watch, listen, or follow more recent stories, please click on ASEA REDOX Testimonials – Is It Real? to find more.
Because ASEA products are supplements and according to the FDA, we must include a disclaimer that the ASEA Redox technology is not a treatment or a cure for any disease or medical condition.
We are simply feeding our body with these powerful molecules with the understanding that our body knows exactly what to do. They are native to our body and our body will put them to work for our best use. Please review our Health Disclaimer.
Personal Stories
I choose three different personal stories with a variety of experiences from children to adults. Each has its own unique issues and struggles. The one common theme is a better quality of life physically and/or financially after using ASEA. Each of these stories is from 3 to 10 minutes long.
Health Professional Stories
The following video is an interview with Dr. Robertson Ward M.D. FAAFP and Dr. Maureen Hayes, double board-certified in Anesthesiology / General Anesthesiology, Pain Medicine, Pediatric Pain Medicine, married to Joaquin Cortiella, the first doctor/scientist to create a human lung outside the human body for transplant. They shared their experiences and the science behind ASEA redox molecules in simple terms. It is 59:34 minutes.
Dr. Rob Ward and Maureen Hayes from ASEA United on Vimeo.
The following video is an interview with four nurses. They each shared their own personal and professional experiences regarding ASEA. It is 59:25 minutes.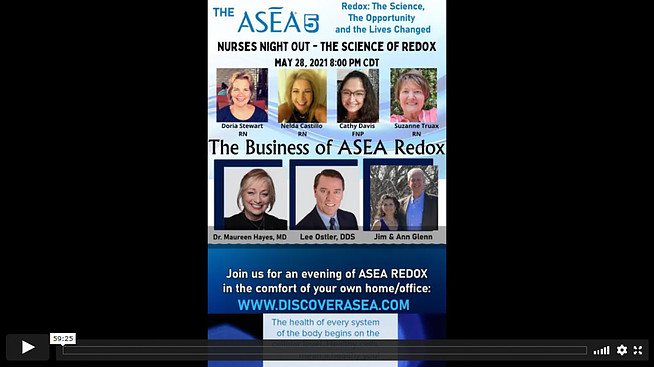 The following interview was with Dr. Carmen Keith who is certified boarded in pain, anesthesia, and functional medicine. She shared her personal and professional experiences.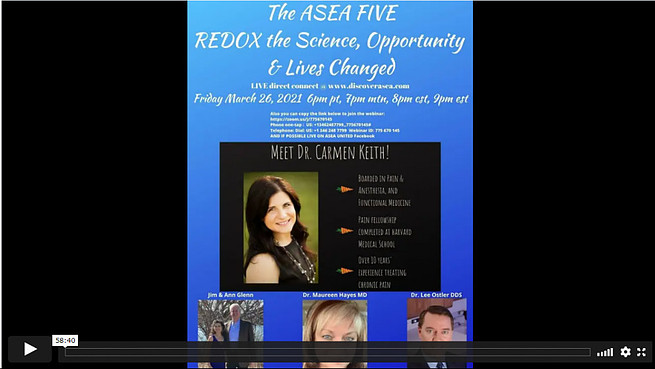 Athlete Stories
ASEA helps everyone include people with health issues to people who are high-performance athletes. You do not have to be sick or weak to use ASEA. Many athletes find ASEA helps with improvement on endurance, quick recovery, and quick repair from previous workouts or competitions. There are no side effects. These athletes are constantly and spontaneously tested for drugs usage. ASEA is natural and no trace of drugs in their system when tested. The videos ranged from 7:41 minutes to 46:23 minutes.
The last video was an interview with nine different Olympic and world-class athletes. They shared their stories and their experiences with ASEA.
ASEA Sports from A Noble Purpose on Vimeo.
THE ASEA ATHLETIC ADVANTAGE from A Noble Purpose on Vimeo.
Founder Story
The following video is a brief story about how ASEA was introduced.
Below was an interview with Tyler Norton, the founder of ASEA. He shared his personal story and experience with ASEA. The video was about 56:46 minutes.
Tyler Norton – Interview by Danielle Matthews with ASEA's Founder from ASEA United on Vimeo.
I found an interesting interview with Dr. Gary Samuelson, an atomic physicist, sharing his experiences and examples of his researches with ASEA. He consults and helps stabilized the molecule structures for ASEA when it was first discovered by Vertis Norton. The video is approximately 40:53 minutes.
Conclusion
As I learn more and more about ASEA, I am inspired by the unlimited possibilities in the advancement of health and wellness. ASEA Redox is an amazing discovery. People, young and old, well and unwell, even animals, and plants (anything with the reproduction of cells) are benefiting from Redox signaling molecules.
ASEA is structured in such a way that not only can we benefit physically and mentally but also financially. Please visit Asea Supplement – Eight Ways to Get Paid and/or Asea Supplement Review – Scam? to learn more.
I love to hear about your experiences and health stories. Please leave your questions and comments below.
Please follow and like us: