Have you heard of Redox Signaling? It is not something new in the medical community. You can find many articles regarding redox signaling when searching in pubmed.gov or scholar.google.com. However, those articles have medical and scientific terminologies that are way too technical for me. I found a great article called "Redox Signaling – A Universal Principle of Life" written by Dr. Gary Samuelson that has a simpler explanation of redox signaling.
In this article, we will talk about Asea Redox Signaling, what it is, and how does it maintain our body in good health.
What is Redox Signaling?
The word REDOX came from the combination of REDuction / OXidation process. The reduction process happens when the oxygen molecule captures the electrons from other molecules. The oxidation process is when the electrons are ripped off these molecules, the oxygen oxidizes the molecules. The oxygen is being oxidized and reduced at the same time during the transfer of electrons. I hope all this makes sense. Please refer to "Redox Signaling – A Universal Principle of Life" for a more thorough explanation.
The primary reason for the electrons to be captured is to help charge our body like a battery. The oxygen is used and transformed inside cells. There are lots of transformations going on such as from gas to water or water to gas. Ultimately through the reduction and oxidation processes, they serve as fundamental redox signaling molecules. These molecules turn on and off the genetic switches that control what happens inside the cell. They regulate and regenerate healthy cells. All this happens naturally and amazingly in our bodies.
What is Asea?
Asea is a company that was founded by Verdis Norton. Here is an ASEA Genesis video that shared the beginning of ASEA and its founders: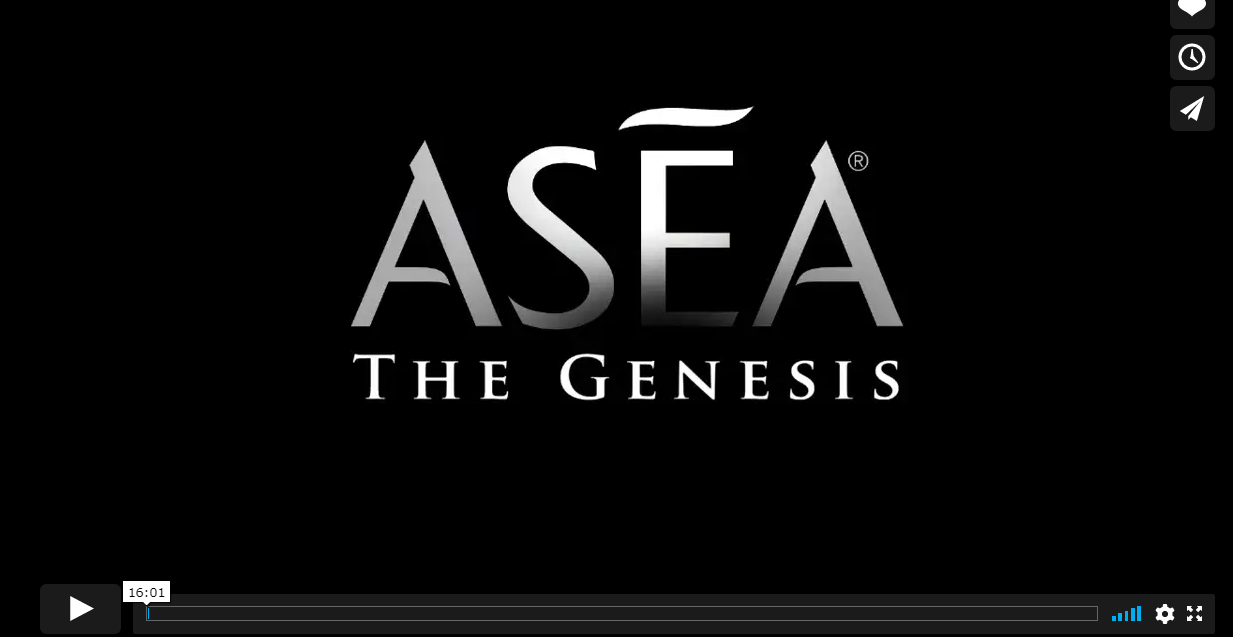 ASEA Genesis – Founders Video from A Noble Purpose on Vimeo.
Asea has two main initial products: Asea Redox water and Asea Renu28 gel that contain REDOX signaling molecules. To learn more about the products, please visit and click on Asea Supplement Review.
What Does It Help?
Because ASEA products are supplements and according to the FDA, we must include a disclaimer that ASEA Redox is not intended to diagnose, treat, cure, or prevent any disease or medical condition. For the full disclosure, please click on ==> Health Disclaimer.
The product is simple yet it makes a huge impact in many people's lives. Many people all over the world have used ASEA and have their own amazing experiences in improving their own discomforts and managing their cells in an optimal and healthy way. To listen to those experiences, please visit and click on ASEA Redox Testimonials – Is it Real?
Is It a Scam or Is It Real?
I can understand why people could think that ASEA is a possible scam. There are so many scams out there in the world that it is hard to discern which product is a scam or not a scam.
On top of that, ASEA is a network marketing product. There are lots of negative vibes against network marketing products in the US because of people's past experiences with the bad ones. Most people think network marketing is commonly known as multi-level marketing or pyramid scheme. Are they really the same? To learn more about pyramid schemes, multi-level marketing, and network marketing, please visit Network Marketing vs Multi-Level Marketing – Are They The Same?
Network marketing is become more well known all over the world. It is growing in popularity and especially now when more people are selling online and working from home. It has low overhead costs and the start-up costs are minimal. In addition, you have community support where you do not have to reinvent the wheel. Last but not least, there is a potential for earning passive income.
I can confirm that ASEA is very real and not a scam. ASEA associates make good money. It does require hard work and dedication. You cannot sit idling and hoping the money will come. If you put in the effort, you will succeed.
Conclusion
Initially, I have my doubts about ASEA. I did my research for several months. I came across some negative articles written about ASEA as a saltwater scam and complaints of no proven science. I also read articles about ASEA being effective and amazing. There are people selling ASEA on Amazon with positive feedback on the effectiveness of the products. Although, associates are not supposed to sell ASEA products on Amazon.
I also found that some people with negative reviews have not tried ASEA. For those who tried ASEA and have no effects, they have not tried to find out to understand why or reached out to the community for a possible solution.
The only way to truly find out for me is to give it an honest try. I finally broke down and gave it a try. To my amazement, ASEA Redox works for me. For my first few weeks, I felt energetic and I slept really well. However, I thought it could be a fluke since I am usually full of energy. I could sleep really well because I am not getting enough sleep each night so no wonder.
My son has eczema on his hand for over a year which would not go away. I decided to put ASEA to the test. It took two months before eczema went away, hopefully for good. We used the Renu28 gel first. The first few weeks it got worse then it got better. Then eczema came back again. The cycle of rash came back and then disappeared repeated over the length of two months. However, each time the rash was less. For the second month, my son decided to use the gel and drink the ASEA Redox water. Now, the rash is completely gone.
As for me and after two months, I noticed a huge improvement in my oral hygiene especially my gum. I have periodontitis which is a gum disease that constantly gave me problems with infections and cavities. My gums no longer bleed. I also constantly have canker sores which also healed quickly when I drink ASEA.
I am also working on healing my finger arthritis. I don't know if this will totally go away because I am constantly injuring them when I rock climb. However, I don't want to give up my favorite climbing sport. =(
In conclusion, ASEA is a legitimate company with legitimate products. Do your own research, try it for yourself, and make your own assessment. Please visit Asea Supplement Review to learn more.
I love to hear about your negative or positive experiences with ASEA. Please leave me your thoughts or questions below.
Please follow and like us: