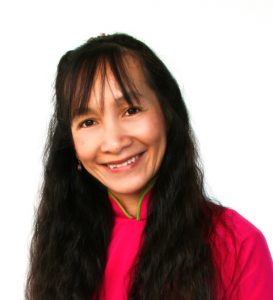 Hello fellow online internet browsers!
My name is Hà Roda and I am a proud Vietnamese – American living in Florida. I teach, demonstrate, and share how to make Vietnamese food. I am a freelance Vietnamese Interpreter and an online internet marketer. My favorite hobby is rock climbing indoor and outdoor.
My Story
I worked at many jobs when I was younger from being a newspaper carrier to a Special Digital Effect Sequence supervisor. I love computers so creating special effects using computer graphics was my specialty. I also dabbled in real estate investments.
After my children were born, I quit my money making job and became a stay-at-home mom. Thanks to my dedicated, generous, and loving husband, I was able to stay home full time. Our real estate investment also helped
out financially. While being a stay at home mom, I published a Vietnamese cookbook and did a handful of cooking demonstrations to promote my cookbooks.
In 2008, the real estate bubble broke and our investment went along with many others down the drain. We were also scammed by many other investments as well. Huge lesson learned and totally gun shy about investments. I lost trust in others and especially in myself to make the right decision. We totally had to start over from scratch.
With two young children, we moved across country from California to Florida and started life all over again. It was very similar to what my parents did but not as extreme. My parents took six children and traveled half way across the world (from Vietnam to America) and started a new life. That is yet another story. If you are curious, Click HERE to learn more about my Journey to America.
While my husband works for a company to support the family, I work different part time jobs and become an entrepreneur to help supplement our income. I created Pho Queen Cooking to sell my cookbooks and demonstrated Vietnamese cooking. I created new products – a peanut sauce called Magic Monkey and Magic Dragon sauces. I created a website called www.PhoQueenCooking.com to help promote and sell my products online.
Why I Want to Help People
Why am I sharing with you all this? Through my entrepreneurship and real estate investment experiences, I learned how to operate DBAs, C-corporation, and LLCs home-based businesses. I made plenty of mistakes along the way and I learned a lot. When my family and I had to start all over again financially in 2008, I had to dig really really deep to find myself and what I am passionate about. I found one of my passions is helping others. I reflected upon most of the jobs that I have worked over the past ten years and they were teaching, demonstrating, or educational jobs.
Now, I am at a stage of my life that I want to share my knowledge, engage my passion, and pass it on to other stay at home parents, retired individuals, or passive income seekers ways to make extra income online and avoid making the same mistakes I made.
The Goal of My Site
The goal of my website is to be the source for how to setup up an online home-based business, engage your passion to the different online businesses available, and make passive income along the way.
If you ever need a hand or have any questions, feel free to leave them below and I will be more than happy to help you out.
All the best,
Hà Roda
Online-homebased-business.com
ha@Online-Homebased-Business.com
Please follow and like us: