Building a website from scratch can be painful. There are so many themes and layout available. It is hard to choose. Each time I build a website it takes me a day or two to look through and research which theme will fit my needs. Then it would take me several more days to learn how to maneuver around with the new theme. Unless I am building websites often or working with a website for a living, I need to learn and re-learn the syntax and the layout of my chosen theme. On top of that, not all theme has everything I wanted in one. I often have to piece mill or find a way to duplicate from one theme to another. Sometimes it is not even possible.
Recently, I discovered Thrive Themes and Elementor. At first, I thought they were the same. However, as I did my research, they are not. Thrive Themes Vs Elementor, which one is better? What are they? In this article, I will share what they are and my opinion about them. They are different yet have similarities.
This article shares the different functions of Thrive Themes and Elementor as a plugin. If you would like to learn more about the advantages and disadvantages of each one, please visit ==> Thrive architect Vs Elementor Pro – A Comparison Review.
What are Thrive Themes?

Thrive Themes is a compilation of different functional plugins and WordPress Themes that support website building with ease and no coding experience necessary. Thrive's primary goal is to focus on converting visitors who visit the websites into clients. Thrive Themes also cater and customize to mobile devices such as iPad and mobile phones as well. That is definitely a plus.
Here are the current Thrive products:
Theme Builder
One of the top products that Thrive has currently is Thrive Theme Builder. You can customize header, sidebars, footers, or any area of your website using a pre-designed Thrive theme or create your own design. It is a theme and will not work with other themes. It supports WooCommerce to build your eCommerce store. The theme builder is visually designed for the user to drag and drop the elements or widgets to a location of choice in the layout.
The theme builder comes with Shapeshift and Architect Light. Shapeshift is a companion theme with pre-designed layouts and landing pages templates. You can choose the preset design and customize it to your liking. There are also pre-built page section templates so you can drag and drop into your specific sections on each page. Thrive boasts that you can customize your first WordPress site up and running in 15 minutes or fewer no matter the experience level.
Thrive Architect Light is a lightweight plugin for WordPress visual editing. Even though it has slightly fewer features than Thrive Architect, you can still build stimulating and engaging websites. While Thrive Architect is a standalone plugin, Thrive Architect Light pairs with Theme Builder.
There are 3 levels of purchases.
– a single license with 1 year of updates and support for $97
– 5 licenses with 1 year of updates and support for $127
– a Thrive Suite for 25 licenses with access to all of Thrive plugins and themes for $228 paid annually or $19/month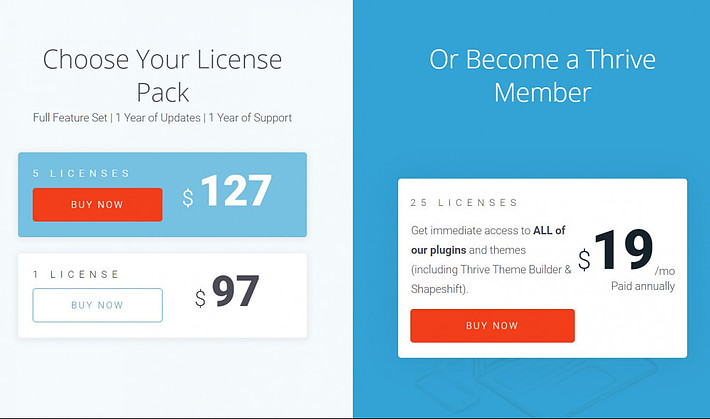 Architect
Thrive Architect is a plugin tool WordPress page builder. It allows you to click and edit instantly with no design or coding skills necessary and simple drag and drop. It is totally customized to build your sales page, opt-in pages, webinar pages, and more from landing page templates. There are pre-built conversion widgets or elements to help customize buttons, testimonials, countdown timers, forms, and others to integrate with your favorite marketing tools.
Architect plugin provides adjustable column layouts, text and image combinations, control over the fonts to produce a glossy magazine look, hover and button effects, and much more to build a website that brings leads and customers to your business.
There are 3 levels of purchases for Thrive Architect.
– Single license for $67
– 5 license package for $97
– up to 25 websites for $228 paid annually or equivalent to $19/month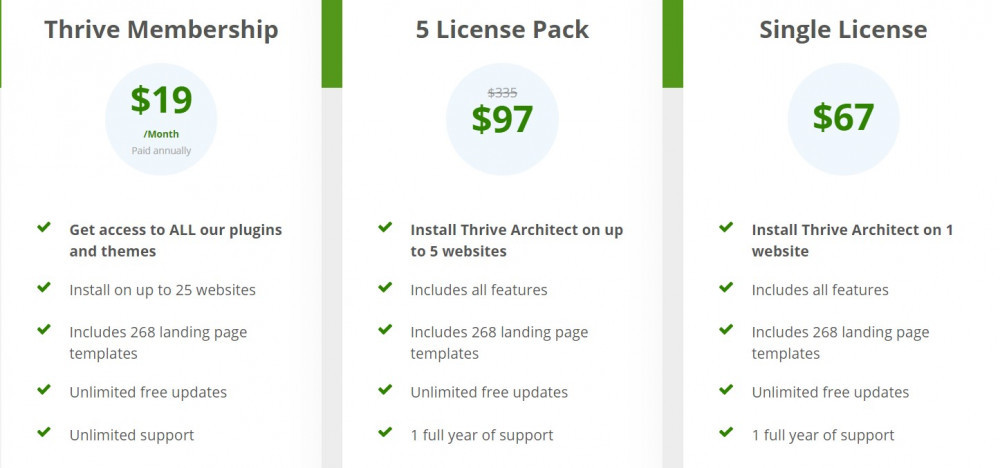 Quiz Builder
This is a plugin that creates a quiz to engage visitors, discovers what they are interested in, offers them content based on their interests, categorizes them in an emailing list based on their interests. You can also use the quiz to test which landing page, opt-in form, or any page content and layout perform best.
The Quiz Builder offers
5 quiz types: Number (total number correct), percentage (percentage of correct), Personality (what category do you belong based on your response), right/wrong (number right out of the total answers), or survey.
Powerful analytics

Results over time
how many people start and finish
where visitors are dropping off, which goals are successful, and the most common path taken
how each question is being answered
what results are being shared most
how the visitors answer each question

4 Quiz templates
Badge editor (customize engaging social sharing badges)
With the insights of the results collected and compiled from the engaging quizzes, you will have a better understanding of the interesting areas for your blog posts, products, or services to offer your customers.
There are 3 levels of purchases.
– 1 license for $67
– 5 license packs for $97
– 15 license packs for $147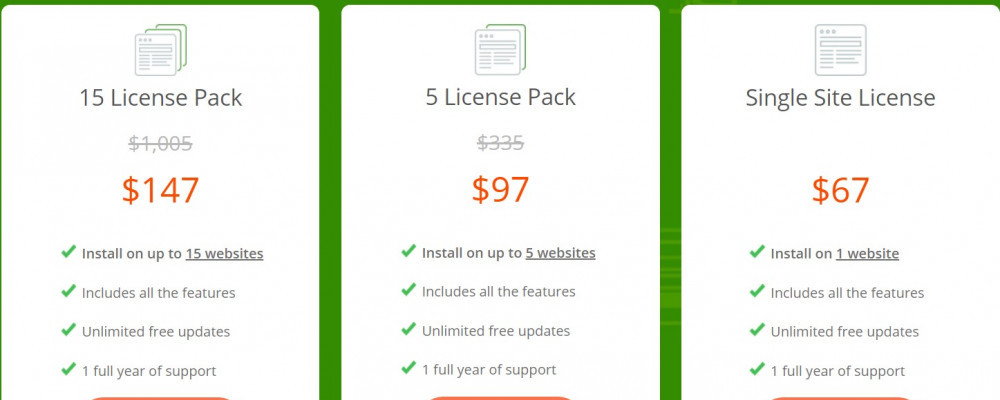 Leads
Thrive Leads is an opt-in form plugin for WordPress to build a mailing list and maximize your conversion. It offers 10 varieties of opt-in form setup templates with detailed stats and reports:
Popup Lightbox – popup display above the content.
Sticky Ribbon – Display the ribbon type opt-in form at the top of the screen and remains "sticky" as you scroll down.
In-line Form – Insert opt-in form at the bottom of your page or anywhere using a shortcode.
2-step Opt-in Form – a 2 step process by adding a button or a link that opens a Lightbox upon a click.
Slide-in – the opt-in form slides into view from the corner.
Opt-in Widget – add an opt-in form to the sidebar or any other widget area.
Screen Filler Overlay – create an opt-in form fully over your content.
Content Lock – Add an opt-in form, page unlocks when a visitor signs up.
Scroll Mat – Add an opt-in form that appears from the top of the page and pushes the content down
Yes/No and Multiple Choice Forms – offer multiple choice opt-in form
With the multiple opt-in form templates, you can drag and drop, tweak and design your own opt-in with ease and code experience necessary.
There are 4 levels of purchases.
Click here to learn more ==> Thrive Leads
– 1 license for $67
– 5 licenses packs for $97
– 15 licenses packs for $147
– Be part of Thrive Suite: have access to 25 licenses and all of Thrive Plugins and Themes for $228 paid annually or equivalent to $19/ month.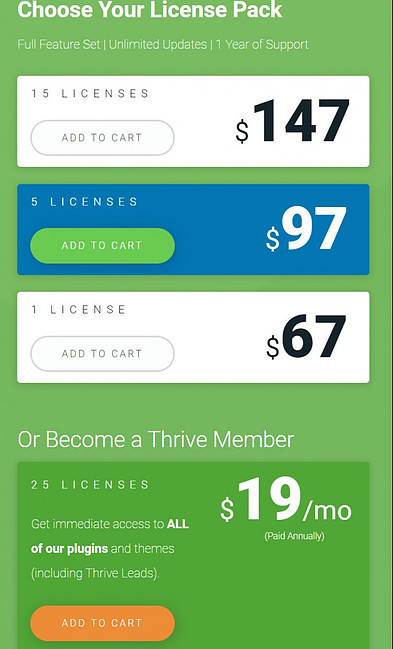 Ovation
Thrive Ovation is a plugin for testimonials. It gathers and manages testimonials within your website by grabbing information such as name, pictures, and WordPress comments to insert as a testimonial on your sales page and others. Ovation integrates with Facebook and Twitter's comments and imports it into testimonials for your website. It also collects testimonials on auto-pilot by creating opt-in forms, blog posts, or landing pages into an automated process to send messages to your customers and ask for feedback.
To keep everything legal and client-friendly, Ovation also keeps track of approval emails from clients and marks "Awaiting Approval State" until accepted to make sure you have the right to use them. It is customized designed templates that allow you dynamically updated the content over time with tags.
There are 3 levels of purchases.
Click here to learn more ==> Thrive Ovation
– 1 license for $39
– 5 licenses packs for $47
– 15 licenses packs for $97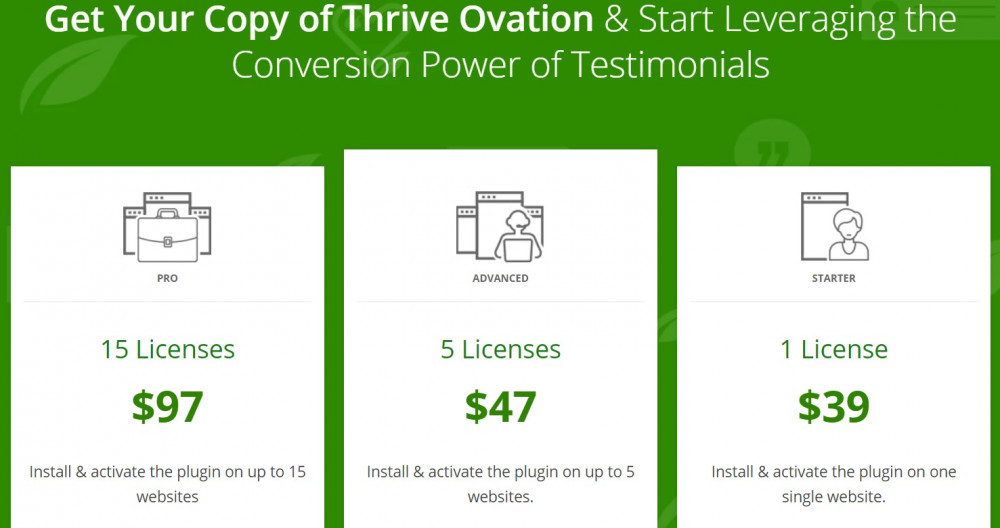 Comments
Thrive Comment is a plugin that collected elements of social media and community forum to create an engaging experience with your audience to interact with your website.
Facebook and Reddit are successful in collecting their comments because they reward their followers constantly through likes or social validations with a trophy for Reddit or they get likes for Facebook. For Quora, the commenter could be voted for the best answer to a question.
Thrive Comments provide "like", validate by up-votes and featured comments, create achievements through unlocking badges, and generate the opportunity to be shared socially. Another option to reward your audiences who leave comments is to redirect first-time commenters to a gift page or repeat customers a social share button so they can post their comments on Facebook as well. There are many more options to explore and customize. To learn more you can visit Thrive Comments by clicking => Thrive Comments.
Comments are a plus for your website. The interaction with the audiences helps with the overall ranking in the search engines such as Google.
There are 3 levels of purchases.
– 1 license for $39
– 5 licenses packs for $47
– 15 licenses packs for $97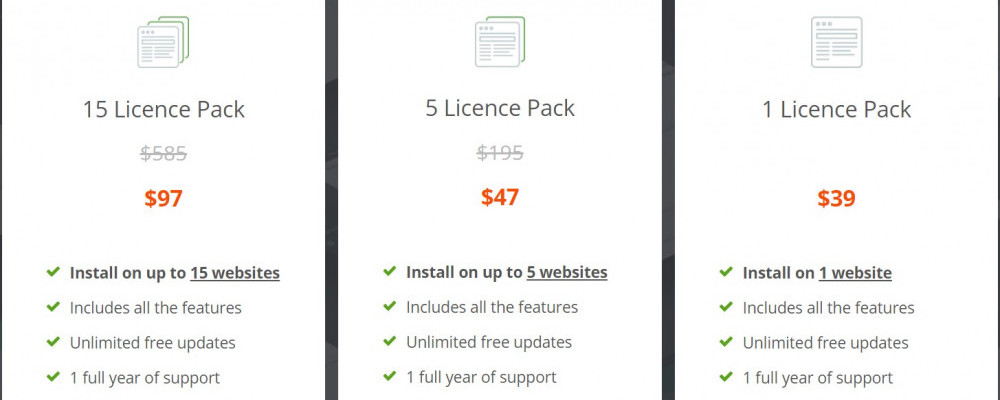 Optimize
Thrive Optimize is a plugin to create A/B testing for your landing page. An A/B testing is a test between two things an example of a landing page with videos versus a landing page with text only. Which would convert more or get more attention? Optimize create unlimited A/B tests and variations with 3 conversion goals: page visit, opt-in form submission, or revenue. It generates detailed reporting of how your tests perform over time, determine how traffic is distributed between test variations, and choose the winning variation and set it for you.
You will need to install Thrive Architect to run Thrive Optimize. It is fast and simple with no coding required and no hassle. Optimize takes the guess out of the game. You now have actual data of what works best for your products or services without having to waste time blindly on the opinions of online marketing experts.
There are 4 levels of purchases.
– 1 license for $127
– 5 licenses packs for $177
– Be a part of Thrive Suite: have access to 25 licenses and all of Thrive
Plugins and Themes for $228 paid annually or equivalent to $19/ month.
Ultimatum
Thrive Ultimatum is a plugin that takes advantage of scarcity marketing such as limited time offer, sale, or promotion. Leverage the fear of missing out to boost your conversion rates. It comes with pre-designed templates for countdown timers, widgets, and floating banners. With the existing templates, you can customize using your logo, images, colors, fonts, and others with drag and drop visual editor.
Some Ultimatum features are fixed date campaigns (set a start date and end date. The plugin takes care of the rest), recurring campaigns (automatically starts, stops, and repeats for you), multi-page and unlimited campaigns (multiple and unlimited campaigns can run at the same time), autopilot, and much more.
There are 3 levels of purchases.
– 1 license for $97
– 5 licenses packs for $147
– 15 licenses packs for $399

Apprentice
Thrive Apprentice is a plugin for building a professional online course. This plugin will work with any existing WordPress theme. You can build your lessons with a drag and drop visual editor quickly and painlessly. Apprentice will support you in building your first online course step-by-step process with no coding experience necessary.
You can create video courses, text courses, simple one-page guides, or info-products. Apprentice is not a membership plugin. However, it integrates with SendOwl to turn your online courses into premium membership products. SendOwl is an online platform where you can easily and inexpensively create a storefront to sell digital products, subscriptions, memberships, and services. You can also integrate with other membership plugins such as memberPress, wishlist member, or Member Mouse to handle online memberships.
There are 3 levels of purchases.
– 1 license for $67
– 5 licenses packs for $97
– 15 licenses packs for $127

Thrive Suite
Last but not least is to have a Thrive Suite. You will have access to all of the Thrive plugins mentioned above, member-only courses, templates, updates, and unlimited support. Those tools and plugins are Thrive Theme builder, Thrive Architect, Thrive Leads, Thrive Quiz Builder, Thrive Ultimatum, Thrive Ovation, Thrive Optimizer, Thrive Apprentice, and Thrive Comments.
There are options to purchase Thrive plugins. You can pay for each plugin individually at a one-time price or become a Thrive member and have access to all plugins and themes. If you know that you can take advantage of at least two to three plugins for your websites, then being a Thrive member is definitely cost-effective.
Click Here To Learn More ==> Thrive Suite
There are two membership payments:
– Billed and pay quarterly which would cost $360 for one year equivalent to $30 per month. You would pay $90 quarterly.
– Billed and pay annually which would cost $228 for one year equivalent to $19 per month. You would pay once $228 annually.

Elementor

Elementor is an all-in-one plugin WordPress page builder. It supports you in building your own customized website with no code experience necessary. It builds with the focus of simple, powerful, and flexible visual design to desktops and mobile platforms. The features are
Customization over the existing design or create your own design
Customize the layout, typography, fonts, colors, background, images, and much more.
Motion Effects – Animation and interactions with parallax, mouse over effects, and many other animations and interactions.
Custom positioning which means you can position your element anywhere on the page in line with the element or outside of the default layout. Experience the ultimate Freehand design.
Add finishing touches with effects to existing photos
Shape divider – backgrounds with different customized shape dividers to capture your interests.
All-in-one Marketing solution to get more traffic, leads, and converting visitors to customers with intuitive targeting such as conditions to determine which pages or posts to shop popups or set triggers to determine which actions set off popups, or certain rules
Drag and Drop landing page builder and templates – you can access to over 100 professional landing page templates integrated with popup builder and form builder or start a blank canvas and create your own design using drag and drop editor.
Popup builder – you can build any types of popups using any modal you can think of such as fly In, full screen, hello bar, bottom bar, classic, slide-in, and more to apply to your email subscriptions, login forms, promotional sale banners, lead capture, content lock & upgrades, and others. No extra plugins or coding necessary.
Conversion – forms building visually and easily with full design control for dynamic forms, colors, and style typography to match your brand. Take your form to the next level with advanced features such as anti-spam, reCAPTCHA, hidden fields only to you, submit notifications, confirmation emails, redirect & thank you page.
Integrate well with other marketing tools and platforms: marketing tools such as AWeber or MailChimp, WordPress plugins such as WooCommerce or Yoast, social networks such as Slack or Facebook SDK, and many others.
Open-source project for extendable and developer-friendly – expandable and able to build your own widget for those who know how to code, easy to add custom CSS to every page, section, column, or widget, and collaborative efforts from the developer community which allow Elementor's API to expand.
Click Here to Learn More ==> Elementor
There are four levels of prices for Elementor Plugin:
Basic Elementor is $0 which has the drag and drop editor and basic widgets and templates.
Personal level is $49 per year for 1 site with everything and one year of updates and support.
Plus Level is $99 per year for 3 sites with everything and one year of updates and support.
Expert Level is $199 per year for 1000 sites with everything and one year of updates and support.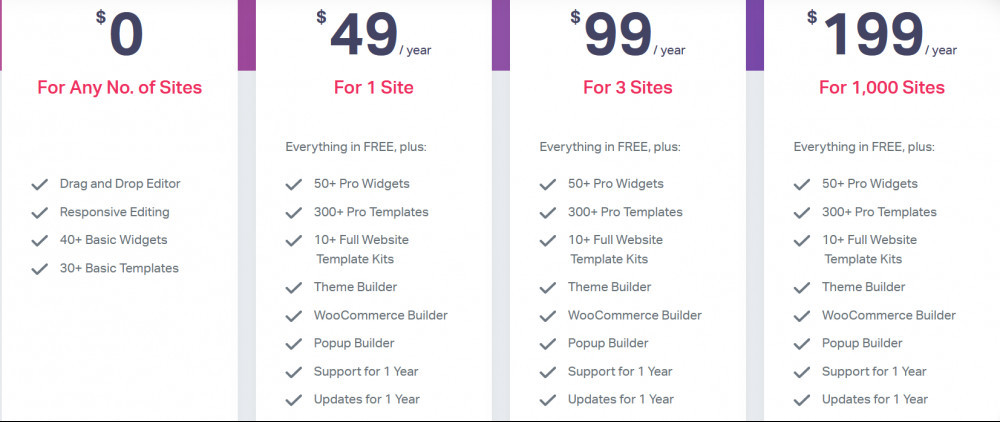 Differences
Other than the syntax and layouts, I noticed that there are four primary differences between Thrive Themes and Elementor:
The numbers of plugins: ThriveThemes have 7 plugins and one theme builder while Elementor has only one plugin.
The primary focus is different for each: Thrive Themes focus on lead generation turning every visitor into a customer while Elementor focuses on capture visitors through customized designs.
The price structures are different. With Thrive Themes, you can buy each plugin standalone and receive unlimited updates while Elementor you can buy the one plugin but it is good only for one year with updates. If there are new updates, you will not be able to access them once your year expires unless you purchase additional years. They both offer support only for one year unless you upgrade. Buying Elementor seems cheaper overall. However, you are getting one plugin that does everything while Thrive Themes have multiple plugins that you can buy standalone or all together.
Open source code structure: At this time, Thrive Themes are not open source code and do not integrate with other plugins as much as Elementor. Elementor was voted to be the best extendable platform for developers.
Benefits
Both have great benefits to building an awesome website with ease and without having to know how to code. It is helpful to know how to code but it is not necessary. Both are great for an experienced techie to non experienced techie. Once you understand the layout, building a customized website is easy with Thrive Themes and Elementor so you can focus on your design, create, and sell your products and/or services.
Conclusion
I have worked with both Thrive Architect and Elementor. I found Elementor easier to navigate through in creating a website. However, Thrive Architect provides unlimited updates with just the standalone Thrive Architect is very alluring. In the long run, it is cheaper for me if I do not use other plugins because it is a one-time price. It is a very hard choice to choose between the two.
Another aspect that is maybe important to consider. Even though the plugins area great for you to build your websites with ease and quick, think about the load time each page of your website with a plugin that could weigh your website down. What are you willing to compromise – the ease of building a website or the load time which could slow down the visitor experiences and detract them from visiting?
What is your choice? I would love to hear from you which plugin you would prefer. Please leave your thoughts below.
Please follow and like us: