ClickFunnels Vs OptimizePress, which one is better? Before we can choose, we need to understand what each program does and how can it benefit you? There are so many programs out there that handle this or that. It is hard to choose a direction without having to spend the money or time in researching. Hopefully, this article will clarify some of those questions for you to make your choices.
In this article, we will discuss details of each so you can make your own educated choice on which package to test out. It is confusing when terminologies such as landing page, opt-in page, squeeze page, etc coming at you. I want to look into the broad stroke of each package's similarities/differences with its advantages and disadvantages along with their perks and prices for you to compare.
What are they?
Ultimately, ClickFunnels and OptimizePress are marketing tools that assist you in creating your own high-converting marketing funnels with websites. The best part is that you do not need to know how to code. Their website builders provide easy drag and drop customization to build your own web pages such as landing page, opt-in page, sales page, and many others.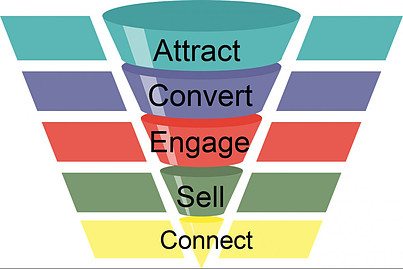 A marketing funnel is a marketing concept in generating sales and leads in a controlled system. Free online incentives, social networking, and/or other marketing enticement attract prospects in leaving their email address and other information. The information is collected into a list of prospects.
Using the consumer psychology of the marketing funnel to control and guide the list of prospects' behavior from abroad (at the wide end of the funnel) to a narrow specific product or brand (the narrow end of the funnel). At the end of the funnel, the prospects become target audiences or consumers and make the purchase. I found a nice article that explains a more detailed process of a marketing funnel. To understand more, please click after the arrow ==> What is a Marketing Funnel?
ClickFunnels and OptimizePress provide a variation of marketing funnel templates, checkouts, up-sell / down-sell flows, split testing, and the technical support for the website so that a user can focus on creating and selling the products or services. They both provide a variation of tools to cater to certain audience needs or demands. The price is also another factor that sets them apart as well.
The Differences between ClickFunnels and OptimizePress

ClickFunnels is an all in one software service while OptimizePress is primarily a plugin theme to WordPress. ClickFunnels provides a hosting service on its own server along with its in house basic emailing autoresponder, and shopping cart option. It is a one-stop-shop in terms of creating a website to market your product or services. However, you can also integrate other third party shopping cart or your favorite email autoresponder services to support ClickFunnels.

OptimizePress is a theme-based plugin tool that is an add-on to WordPress and your existing website. The primary difference between ClickFunnels is that it does not provide hosting service. OptimizePress integrates with other email marketing services for your email campaign such as aWeber and payment services such as Stripe.
The Good and the Bad
For the good and the bad, I do not want to focus on the variation syntax of the software, and the template looks and feels. I feel they are subjective. With any packages or program, the code, the style, and the owners are different. They have different ideas and techniques.
Instead, I would like to focus primarily on the practical aspect of what I look for in a marketing package that I would purchase for myself and why I would purchase one over the other.
The advantages
ClickFunnels:
All the tools are built all in one for simple and quick results. Create a plan on how you would like your prospect to flow through your funnel, follow their templates, fill in your products or services, add or modify them to your liking.
Excellent for people who are not technical savvy. It is in a black box with plug and play.
It has its own hosting service powered by Amazon and backed up by CloudFlare Security and CDN. They support virtually unlimited ability to scale in real-time the potential of visitors.
OptimizePress:
Accessible to more theme templates. This gives you much more variety to choose from.
Amazing speed and optimization for the page loading to keep the prospect engaged and not have to wait for loading time.
Excellent website builder and editor for people who are not technical savvy.
Excellent integration with other plugins (Another word, they support other third party plugins). It is open to more savvy and technical users.
Disadvantages
ClickFunnels:
It is in a black box. This is an advantage and great for people who are not technical in any way and a disadvantage for those who do know how to code. It is a disadvantage because the technical person cannot be in control. They are limited to what the software can offer.
ClickFunnels provides its own hosting server. Some people do not want to combine their hosting service to the same place because of cost or control.  I say this is because I like control and I choose to minimize my expenses when possible.
The page loading is slow.
The price is high for a new entrepreneur who has not generated enough money to pay for the monthly fee.
Another complaint was poor customer service because they farm out to overseas services.
OptimizePress:
There were comments on the slow support. Although they do have a forum, knowledgebase, and tutorials for commonly asked questions and answers, it is hard to cover every possible scenario.
Another complaint was since OptimizePress is theme-based content, it was difficult to use OptimizePress with another theme. This means if you are creating only one sale page, you have to download a new WordPress for that one page.
Even though the price is $99/year which is cheaper compared to ClickFunnels, you still have to pay annually. It is not a one-time price.
Unlike ClickFunnels, you will need to find a company to host your website unless you have one in mind already. If not, I totally recommend looking into Wealthy Affiliates. Not only can you get an excellent WordPress hosting provider, but you can also make extra money as well. If interested to know more check out the article below:
>>>>> Wealthy Affiliate Hosting Review – Is Making Passive Income For You? <<<<<
Pricing
The first 14 days are free for you to test out ClickFunnels. After that, if you choose to stay with ClickFunnels, the costs are as follows:
The Basic – $97/month
build 20 funnels
build and design sub-pages within each funnel – 100
Users – 1
payment gateways – 3
Domains – 3
Follow-up Funnels – 0
Chat Support – Yes
The Platinum – $297/month
build unlimited funnels
build and design sub-pages within each funnel – unlimited
Users – 3
payment gateways – 9
Domains – 9
Follow-up Funnels – unlimited
Chat Support – Priority Support
The two Comma ClubX
build unlimited funnels
build and design sub-pages within each funnel – unlimited
Users – 10
payment gateways – 27
Domains – 27
Follow-up Funnels – Unlimited
Chat Support – Priority Support + VIP Phone Support

>>>CLICK HERE TO START ClickFunnels FREE 14 Day Trial NOW <<<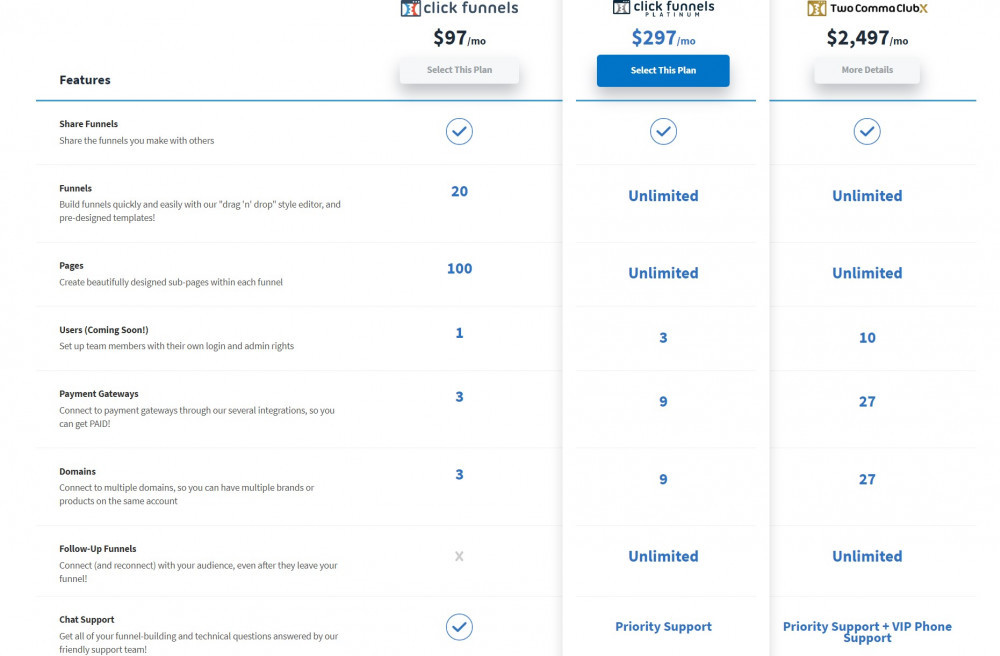 With OptimizePress, there is a 100% No-Risk Money-Back Guarantee to try for 30 days. You can get a full refund anytime within 30 days after your purchase. Below is the pricing chart:
Essential – $99 / year
Business – $149 / year
Suite – $199 / year
>>> CLICK HERE TO START OptimizePress NOW <<<
My Final Thoughts
As a brand new start out entrepreneur, I would choose OptimizePress because it is cheaper and me being a little bit technical savvy I like the control. OptimizePress gives me more control. It allows me to integrate with more third-party plugins.
If I am totally clueless about websites or any technical aspect of building a website and I have an immediate product or service to sell, I would give ClickFunnels a try for 14 days. It would definitely be worth an investment if it saves me time. Time is also money.
At the end of the day, it depends on what I want and my priorities. It is hard to find one software that is good with everything I want. For example, OptimizePress is lightning fast with page loading while ClickFunnels is slow like a turtle. However, ClickFunnels allows me to build my own marketing website with no technical experiences in 10 minutes. This in turn saves me many hours of frustration. I have to check what is more important to me my time or someone else time waiting for the website to load. Either way, time is money. Only you can answer that for yourself.
I hope this article has been useful for you in your research. I love to hear your thoughts and experiences. Please leave your comments below.
Please follow and like us: