ClickFunnels Vs Ontraport, which one to choose? They are similar yet different. We need to understand what each program does and how does it fit into your priorities? It is difficult to choose a direction without having to spend the money or time in researching. Hopefully, this article will clarify some of those questions to narrow down your choices.
In this article, we will discuss details and the broad stroke of each package's similarities/differences with its advantages and disadvantages along with their perks and prices for you to compare.
What are they?
Ultimately, ClickFunnels and Ontraport are marketing tools that assist you in creating your own high-converting marketing funnels with your websites. The best part is that you do not need to be a software engineer, a computer programmer, or learn how to code. Their website builders provide templates with easy drag and drop customization to build your own web pages such as opt-in pages, landing pages, sales pages, and many others.
ClickFunnels and Ontraport provide variation of marketing templates, checkouts, up-sell / down-sell flows, split testing, and the technical support for the website so that a user can focus on creating and selling the products or services. They both provide a variation of tools such as shopping carts for eCommerce or email autoresponder to follow up and generate more leads. They are both a one-stop-shop in terms of creating a funnel website to market your product or services and allow integration with other third party software under API.
The Differences between ClickFunnels and Ontraport
ClickFunnels is an all in one software
service. ClickFunnels provides a hosting service on its own server along with its in house basic emailing autoresponder, and shopping cart option. However, you can also integrate other third party shopping cart or your favorite email autoresponder services to support ClickFunnels.
The main difference that ClickFunnels offer is simplicity which specializes in marketing funnels. ClickFunnels boasted that anyone can create a marketing website funnel within 10 to 15 minutes using ClickFunnels. In the basic pricing chart, there is no mention of a limited number of contacts that you can have for your emailing list which is the difference with Ontraport. Intraport supports up to 1000 contacts on the first basic pricing chart.
Ontraport is also an all in one software suite which centers around CRM and marketing automation system. CRM stands for Customer Relationship Management which handles reminder system, email marketing, lead generation, task management, social media integration, and many more. In addition, Ontraport provides templates for built-in landing pages, email marketing, eCommerce, and analytic tools.
Even though Ontraport provides templates and support for the marketing funnels, it focuses on the customers emailing list and keeping them engaged by utilizing their marketing automation. Their market automation includes A/B testing, social marketing, analytic, website visitor tracking, drip campaign, and much more.
The Good and the Bad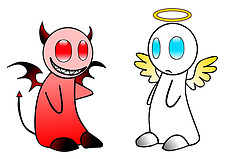 There are usually variations of software and the way the interfaces look and feel. I feel those variations are subjective. With any packages or program, the code, the style, and the owners are different. They have different ideas and techniques.
For the good and the bad, my focus would be primarily on the practical aspect that I would look for in a marketing package and why I would choose one over the other. Both software has 14 days FREE trial period.
The advantages
ClickFunnels:
All the tools are built all in one for simple and quick results but also integrate with other third-party plug-ins. Create a plan on how you would like your prospect to flow through your funnel, follow the templates, fill in the products or services, add or modify to your liking.
It is excellent for people who are not technically inclined. It readies for you to adjust to your liking, plug, and play.
It has its own hosting service powered by Amazon and backed up by CloudFlare Security and CDN to handle the unlimited ability to scale in real-time with the potential of visitors.
Ontraport:
The focus is on Customer Relationship Management (CRM) and automation. This is very helpful especially as your company grows over time. You can set up the automation and autoresponder to follow up with your customers to keep them participated and engaged in your products and support while you can focus on other aspects of your company. ClickFunnels does have the basic option for their Platinum pricing level. However, Ontraport has this option and more for their basic pricing level.
Pre-made campaign builders such as layout and templates for your forms and landing pages. Making it easy for setting up your funnel marketing.
It has amazing customer support which includes Live Chat support and phone support available seven days a week. There is a host of self-service help resources which includes knowledgebase articles and Facebook user groups.
Disadvantages
ClickFunnels:
The page loading is slow.
The basic price ($97 per month) is high for a new entrepreneur who has not generated enough money to pay for the monthly fee.
There are complaints about the email marketing tool. It is not intuitive and seems clunky.
Another complaint was poor customer service because they farm out to overseas services.
Ontraport
The Basic price plan for $79 per month, even though lower than ClickFunnel, supports only up to 1000 contacts and limited services available not including eCommerce (shopping cart system). It is not as affordable for a new entrepreneur who just started out.
Because of the many options offered by Ontraport, it can get confusing and overwhelming for a new beginner to get started. However, their customer support is excellent to walk beginners through step by step if needed.
There are complaints with the onboarding specialists being aggressive on their sale tactics. The onboarding specialists are a salesperson who is assigned to you when you signed up for your free 14 days trial.
>>>>>>>>Wealthy Affiliate Hosting Review – Is Making Passive Income For You?<<<<<<<<<
Pricing
The first 14 days are free for you to test out ClickFunnels. After that, if you choose to stay with ClickFunnels, the costs are as follows:
The Basic – $97/month
build 20 funnels
build and design sub-pages within each funnel – 100
Users – 1
payment gateways – 3
Domains – 3
Follow-up Funnels – 0
Chat Support – Yes
The Platinum – $297/month
build unlimited funnels
build and design sub-pages within each funnel – unlimited
Users – 3
payment gateways – 9
Domains – 9
Follow-up Funnels – unlimited
Chat Support – Priority Support
The two Comma ClubX – $2,497/month
build unlimited funnels
build and design sub-pages within each funnel – unlimited
Users – 10
payment gateways – 27
Domains – 27
Follow-up Funnels – Unlimited
Chat Support – Priority Support + VIP Phone Support
>>>>>>>>>>>
CLICK HERE TO START ClickFunnels FREE 14 Day Trial NOW
<<<<<<<<<<<<
With Ontraport, Free 14-day trial with no credit card required. You can get a full refund anytime within 30 days after your purchase. Below is the pricing chart:
Basic – $79 / month: up to 1000 contacts, unlimited emails, and 1 account user
Plus – $147 / month: up to 2500 contacts, unlimited emails, 2 account users, 2 free call set-ups with customer service, and eCommerce – store online system.
Pro – $297 / month: up to 10,000 contacts, unlimited emails, 3 account users, 2 free call setups with customer service, eCommerce – store online system, and email consultation advice.
Enterprise – $497 / month: up to 20,000 contacts, unlimited emails, 5 account users, 2 free call setups with customer service, eCommerce – store online system, email consultation advice, and a personal account rep.
>>>>>>>>>>> CLICK HERE TO START Ontraport NOW <<<<<<<<<<<<
My Final Thoughts
As a brand new start out entrepreneur with both software ClickFunnels and Ontraport, I would not choose either. They are a bit expensive when I am not making yet the monthly income to cover the costs. Especially, if I do not have a list yet, a product or service setup. I would build a simple website with a landing page or opt-in page to collect emails. If you need hosting for your website, I would recommend checking out Wealthy Affiliates for hosting and make extra money while at it. Click here to find out more ==> Wealthy Affiliate Hosting Review – Is Making Passive Income for You.
If I do have a large list of contact emails over 1000 and available products or services that require collecting payments, I would choose ClickFunnels over Ontraport because ClickFunnels' basic pricing package includes a payment system and unlimited contacts.
If I have under 1000 contacts and not required the necessary shopping cart, I may choose basic pricing with Ontraport. I would add WooCommerce as my integrated plug-in down the road when I need Ecommerce or upgrade to Plus level pricing.
In my opinion, Ontraport seems to have a robust automated database system that can handle middle to large scale business. I would give Ontraport a try when I have a growing business.
At the end of the day, my choice may vary depending on what I want and my priorities. It is hard to find one software that is good with everything and the price is just right. I have to check what is most important to me and where I am in my business. Only you can answer that for yourself.
I hope this article has been useful for you in your research for marketing software. I love to hear your thoughts and experiences. Please leave your comments below.
Please follow and like us: